Events & Entertainment - 2019
Concerts take place in the covered arena with a nice Lake Michigan breeze blowing through. The music plays rain or shine. Beer is also served for those who haven't achieved their wine palette... yet!
Popcorn, chips, and sampler cheese platters are available for purchase.
Tasting fee on event days is $7 for 5 wine samples and you get to keep the Cold Country Signature glass OR turn in your sample tickets for a FULL pour of your favorite wine.
Saturday September 21st 8:00am to 6:00pm
8th Annual Harvest Fest
8:00 am Grape Picking
1:00 Lunch
2:00 pm - Eddie Biebel and Vickie Basar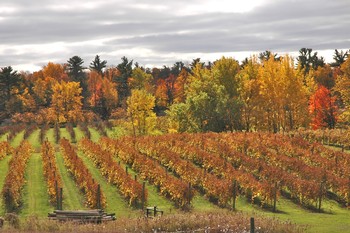 The Rest of Cold Country Music Schedule:
Saturday 21-Sep Harvest Fest Picking Starts at 8:00 am
Eddie Biebel and Vickie Basar 2:00 to 6:00
Saturday 26-Oct Halloween Party Spice Band 4:00 to 8:00
Saturday 30-Nov Holiday Open House Kyle Megna 2:30 to 5:30
Saturday 14-Dec Christmas Show Eddie & Vickie 2:30 to 5:00